Spirit Led Youth Ministry!
This is joint program between Montgomery Square UMC & Chalfont UMC
Open to all 6th–12th grades in the community!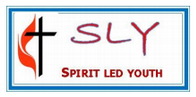 Meets every Sunday, 6:30–8pm at Chalfont UMC

---
10/9 Getting Started / Welcome Back
Study: "Where was Jesus when he was your age" (Pastor Vicky)
Scripture: Luke 2:41-52 / Memory Verse Psalm 27:1-2
Taste Testing Night

10/16 Trip to Rosebridge Farm
1314 Limekiln Pike, Dresher PA
Leave church at 5:30pm / Return at 8:00pm
Private Evening Feeding for Chalfont United Methodist Church (6:30 – 7:30pm)
Give the baby cows and baby goats their last bottle and snuggle before they head off to bed. They always want more attention at night! Then visit the kittens after a long day at play for some sweet kitten snuggles. Visiting the farm at night is so relaxing and peaceful!
10/22 Mission Work: Last Chance Ranch
Leave church at 8:00am / Return at 1:00pm
Helping and interacting with Horses and Barnyard animals
Wear clothes you can get dirty!
10/23 Pumpkin Carving
6:30-8pm
Study: "God's Purpose in Creating Us"
Scripture: Genesis 1:26-27 / Memory Verse Romans 8:28
10/29 Saturday Trip to Merrymead Farm
2222 S. Valley Forge Road Lansdale)
Leave church at 6:00pm / Return at 9:00pm
Visit the 5 Acre Cornfield Moonlight Maze
You must have a flashlight for the Moonlight Maze: no admittance for PM maze if you do not have a flashlight, refuse to purchase a flashlight, or attempt to use a cell phone which is not an acceptable flashlight. Pay at maze entrance & cash only accepted ($12) . Please wear closed toe shoes (sneakers/ boots) ... no flip-flops, sandals, heels, etc. Be mindful of our dairy store hours if you are interested in ice cream the night you are here. We close the ice cream window Saturday 9PM.
10/30 Trunk 'or' Treat
1:00-3:00pm
@ Campus 2: Montgomery Square UMC
11/6 Bingo Night

Study: "The Garden of Eden" (Pastor Vicky)
Scripture: Genesis 2:10-25 / Memory Verse Psalm 119:9
11/13 / 6:00-8:00pm / Geo Caching
11/20 Candy Test & Ice Cream
Study: "The Deadly Mistake"
Scripture: Genesis 3 / Memory Verse Jeremiah 1:7-8
11/27 Creating Inspirational Rocks
Study: "God to the Rescue"
Scripture: John 1 (selected verses) / Memory Verse Titus 2:6-8
12/4 Craft Night
Christmas Craft Part 1
Sock Snowman Mission Project
12/11 Craft Night
Christmas Craft Part 2
Sock Snowman Mission Project
12/18 Christmas Party
Learn Psalm 23 over break
12/31 New Year's Eve Skating Party
4:00pm-6:00pm
Meet at Inline 309, 2117 Bethlehem Pike, Hatfield
**Tickets will be available soon
** Winter Break **
Youth Group Resumes on January 22
Spring Schedule Announced

---
Please note the location of certain events listed as:
CAMPUS 1 – Chalfont UMC, 11 Meadowbrook Lane, Chalfont, PA 18914
CAMPUS 2 – Montgomery Square UMC, 1900 County Line Road, North Wales, PA 19454
---
Our objective is to lead youth towards spiritual growth. Our aim is to create a fun, happy, nurturing environment where youth learn to trust and depend on God our creator, while gaining insight into the faithful, loving, missional work of our call to follow Christ. The youth will be encouraged to seek guidance through scripture and the Holy Spirit as they make important choices in life, on the road to adulthood.
Our program has ten specific goals:
Fun is a must!

Provide a safe environment for youth to have fellowship together




and experience positive growth

Offer helpful Christian guidance and counsel

Lead youth through explorations of God's word in scripture

Organize fundraising events to be used towards the self-sustainability of the group

Provide opportunities for youth to engage in mission and ministry

Help youth to develop leadership skills, and other gifts

Engage youth in team, community and confidence building activities

Arrange times to work with other youth through the connectionalism
of the global

United Methodist Church

Create an environment where all youth feel welcomed and loved.
Feel free to email Pastor Vicky with any questions you may have: pastorvicky01@yahoo.com
---