Sermons
---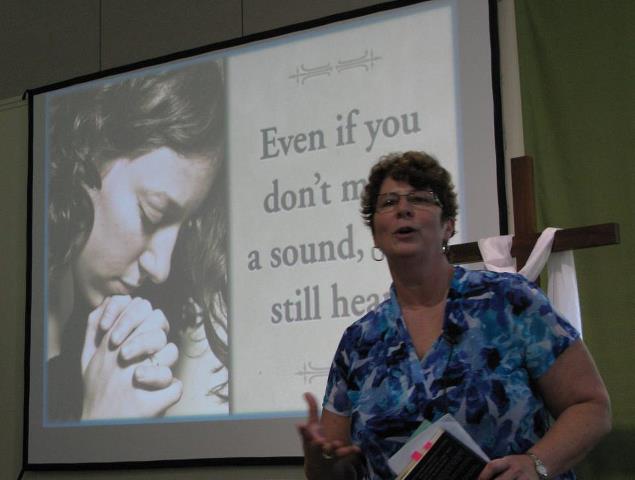 Because He Lives
Because he lives, I can face tomorrow;
Because he lives, all fear is gone;
Because I know, he holds the future,
And life is worth the living just because he lives.
(Gloria and William Gaither, © 1971)
---
This is a sermon written by my daughter, Pastor Stacy.
I chose to use it as I feel it speaks directly to us at Chalfont UMC.
~ Pastor Barb

"Making Room" (Matthew 11: 28-30)
I want to tell you about Friday Family Lunch. One of the things I miss the most about being home in PA. Friday Family Lunch started many years ago, not with a plan or any long-term goals. Instead, my family just started showing up every Friday to have lunch together. Every Friday, we would meet a different restaurant in town. My Grammy, mom, stepdad, brother, aunts, uncles and cousins always had an open invitation. We would schedule around lunch breaks and doctors' appointments and we would sit for an hour or two and just enjoy each other's company. In all of these years, we have showed up to the table and stayed present to one another. We have had chronic illnesses, and financial issues, struggles in school or at work, and deaths of friends and family. We rejoiced with each other in moments of healing, in births of grandchildren, in graduations and retirements. Our answer to all of these life events was just to keep showing up at the table. That is all we knew how to do and let me tell you that it was more than enough.

Our gospel lesson today has the words of Jesus, "Come to me, all who are weary and heavy burdened and I will give you rest…"

But what happens when rest can't be found? Sometimes the grief is too deep. Or the anxiety keeps you awake at night. Or life is just simply too much. Have you been there? Where is God in these moments? What happens when we can't seem to find rest and our burdens have no relief in sight?

As you know, my family is grieving the sudden death of my Aunt Marsha. She became unexpectedly ill with Pancreatic cancer and passed away within a week of diagnosis. She left behind a husband of 45 years, a daughter, son-in-law and 2 teenage grandsons. To say they are heavy burdened right now is an understatement. Grief like that has no easy answers, no quick fixes, and very little periods of relief. It is heavy and it is dark.

So what does this promise from Jesus mean in these moments? I think for any of us who have experienced grief or hardship, we know that this doesn't just means that things become easy or that the pain just goes away.

When I was studying this scripture passage in preparation for this sermon, I read that the words my "yoke is easy" did not mean a life of ease but rather "deliverance from the artificial burdens of human religion" or the barriers keeping us from the true fellowship found in the Kingdom of God. Rest in this passage does not mean "ease" but rather salvation and eternal life.

What I hear in this is that the rest and the ease are found in the community, in the body of Christ. The kingdom of God here on earth is not without pain and heartache because we still live in a broken and fallen world. But rather it means presence in the midst of the pain. Rest can be found here, rest should be found here. That's our calling, that's our purpose.

As the church, our job is to make room for people to find this rest, this place to drop their burdens and breathe for a while. It's not complicated, we often over-complicate things. Our job is just to show up and create space for everyone else to do the same.

Our job isn't to judge someone for their sin or force them out of it or fix them. Our job is to create space where we can come as we are and allow God to work on us and in us.

Our job isn't to put a Band-Aid on someone's grief or rush them through it, but rather to create a space where they can come and find rest and feel loved in the midst of it, while God does the work of healing. Our job isn't to answer all of the questions. Our job is to create a space where those questions can be safely asked and where God is welcomed to answer.

We have been putting too much pressure on ourselves, taking on responsibilities that we are not meant to carry. It is so much simpler yet so much greater than we often realize.

We have been called to carry the sin, the grief, and the questions of the whole world. Not to fix them, not to heal them, not to answer them. But to hold them - with gentleness, with care, and with deep and abiding faith that God is bigger than us, than our church. God is bigger than the sin and the grief, and the questions. When our whole wide world is confused and broken, we can say: come, we have a place for you. Come, you who are weary, you who are burdened, you who are greatly in need of rest. There is space here for your hurting heart and your tired body.

What a beautiful gift that we have to offer the world. It's not to be taken lightly. So we must ask ourselves, each and every day, are we adding to the grief? Or are we easing it?

What if we make room for everyone? The ones who are rejoicing and the ones who are grieving? What would the church look like if we just kept making more room at the table?

I know the power of this making room, because Friday Family lunch has taught me. As my family grieves deeply the loss of my Aunt Marsha, there are no words to make them feel better. No platitudes of, she's in a better place now or this was God's will, will take away the stinging aching pain of losing someone you love. Grief can't be rushed. But what my family will do is show back up that table each and every week. They will be present with each other. They will share meals together. They will hold space for my Uncle to just show up and be there. And they will quietly carry his grief with him, so that in time God's healing balm of grace can ease his burdens. God will do the work. My family will make room for it to happen. And my Uncle will just show up.

This is how it is supposed to happen. We create the space or make room for the hurting to show up and for God to do the work of healing. Let's uncomplicate the situation. Our job is simple but it is tremendously powerful. May we be the church that people run to find rest for their souls. May we be known as the people who ease the grief of the world, instead of adding to it. May we make room for God to show up. And in turn, may our own hearts find the rest that we are longing for. Amen.

Pastor Stacy Gonzalez