Community Garden

This is a different kind of Community Garden, in that all fresh food from the harvest goes directly to the New Britain Baptist Food Larder and Manna on Main Street in Lansdale. The garden was started in 2013.

With the help of Boy Scouts from Troop 133 our garden boxes were expanded for the 2014 growing season.

2015 was another wonderful year of gardening for our team. We were blessed with a yield of over

846 lbs.

of produce for the local food larders. This year we continued to experiment and learn what type of plants will do well in our soil and the time of planting with our seasons.

2016 begins slowly as we have been hampered by hungry local wildlife. The extreme heat has been tough on many of the plants this year.

556 lbs. = (scallions, squash, butternut squash, peppers, tomatoes,cherry tomatoes, zucchini, cucumbers, cantaloupes, watermelons & figs)




& 1 stubborn relocated groundhog !!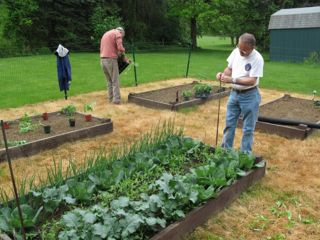 2017 Harvest has begun.
Here is the running total to date (10/2): 534 lbs.
(Figs,Watermelons, Buttter Squash, Cantaloupes, Zucchini, Onions,
Tomatoes, Cucumbers, Squash & Peppers.)