Community Garden
---

This is a different kind of community garden; in that all fresh food from the harvest goes directly to the New Britain Baptist Food Larder and Manna on Main Street in Lansdale. The garden was started in 2013 and with the help of Boy Scouts from Troop 133, our garden boxes were expanded for the 2014 growing season.
2015 was another wonderful year of gardening for our team. We were blessed with a yield of over 846 lbs. of produce for the local food larders. We continued to experiment and learn what type of plants will do well in our soil and the time of planting with our seasons.
2016 began slowly as we were hampered by hungry local wildlife. The extreme heat was tough on many of the plants that year.

556 lbs.

= (scallions, squash, butternut squash, peppers, tomatoes,cherry tomatoes, zucchini, cucumbers, cantaloupes, watermelons & figs)

& 1 stubborn relocated groundhog !!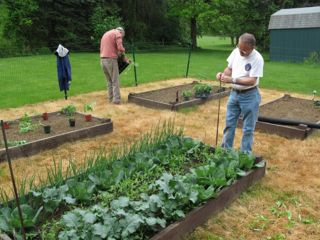 2017 resulted in a harvest of 537 lbs. (onions, zucchini, summer squash, cucumbers, butternut squash, tomatoes, cantaloupe, green peppers, watermelon, & figs)

2018 should be an interesting year. Spring arrived with lots of rain and we have a healthy family of 2 adults and 4 little groundhogs living under the scout shed next to the garden. One adult has been observing our garden from a local tree top. Did you know groundhogs are excellent climbers?
Harvest as of 10/15/18:
277 lbs. (scallions, cucumbers, peppers, watermelon, zucchini, lettuce, tomatoes & corn on the cob)